What is a Community Foundation?
We are part of a rapidly growing field of more than 600 community foundations, acting as community savings accounts for regions around the country. We are a non‐profit community organization created by and for the people of the Lake of the Ozarks area.
We are a foundation for the community, making grants to community organizations and building resources. We manage a variety of funds, established by families, individuals and corporations. We're here to help our donors do good work . . . Forever.


Distinct Features of a Community Foundation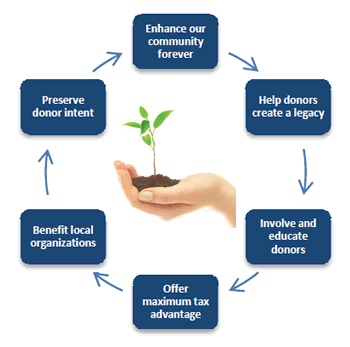 Community Foundation of the Lake is Affiliated
with Community Foundation of the Ozarks
Community Foundation of the Lake

OUR MISSION

To assist in building the educational, cultural, health and economic
development of our community.




How Your Philanthropy Dollars Work Harder in a Foundation

We are building a permanent community resource that will provide endowment funds that will grow and benefit our community forever.


We help donors create an individual or family legacy and offer a simple way to fulfill multiple charitable intents, with lowcost administration, making us a good alternative to private or family
foundations.


We offer personalized service, including donor and family involvement and education in selecting charities and connecting donors with strategic and highimpact funding opportunities.


We accept a wide variety of assets and offer maximum tax advantage.


All our funds stay in the community, where they benefit local organizations meeting a broad range of local needs.


We can preserve donor intent even when community issues and organizations change.


All assets are subject to audit and annual confirmation by an external accounting firm.







Contact Us

Community Foundation of the Lake
PO Box 1413
Lake Ozark, MO 65049

573.374.7128
Info@CommunityFoundationoftheLake.com